contact information
The Morocco-Asian Business Forum is co-organized by the Diplomatic Foundation and the Asian Embassies established in Morocco, with the support of the Moroccan Minister of Foreign Affairs & Cooperation.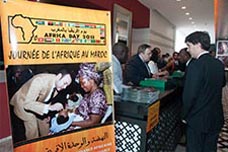 Producer : Polyzone sarl
94, rue Azzouza
Rabat (Maroc)

+212-537-63.99.99Phone:
+212-537-63.88.88Fax:
+1-212-518-24.44New-York:
+33-1-75.43.85.85Paris:
+44-203-12.94.938London:
FORUM@POLYZONE.INFOE-mail:

COMMENTAIRES
our locations
The Morocco-Asian Business Forum is conveniently organized within the calm and luxury of the grand palace of the capital of Morocco "Sofitel" – Rose Garden, perfectly suitable for high-level meetings.

Conferences & Exhibition

The Sofitel Rabat Jardin des Roses hotel occupies a majestic position in the heart of the capital city Rabat, close to the Royal Palace and Mausoleum of Mohammed V. Completely renovated, its contemporary design blends with the best in Moroccan architecture. This 5-star luxury hotel is set amongst a 17-acre garden. A real palace with an international reputation, its history is closely tied to the great conferences and international events that have taken place within the kingdom.

SPECIAL FEATURES

The hotel's exclusive features are its Andalusian gardens, orange grove, outdoor swimming pool and golf range, making this palace an oasis of relaxation and pleasure. Its fitness center is one of the best in the kingdom.

GREAT GALA DINNER

After two days of conferences and exhibition, the Asian Gala Dinner will gather, in the Royal Halls, all delegates, speakers as well as hundreds of personalities from the diplomatic, business and Government sectors, working, in Morocco, in the field of international relations. This major annual event is televised and provides more opportunities for networking around a gourmet farewell menu.